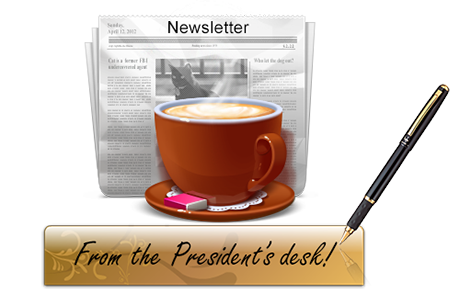 Welcome to the Spring/Summer 2018 issue of ❛PATNZ Create❜
the official newsletter of Porcelain Art Teachers NZ
Inspire, Inform, Educate!


Hello Fellow Artists


Welcome to our Spring/Summer 2018 Newsletter!



Well the year has just been speeding by. Our committee have all been away on overseas holidays. I myself overseas to the South Island visiting Invercargill, Dunedin and Lake Tekapo. I must say I was just blown away by the beauty of the South Island. Having been no further south than Christchurch before. Sadly, I would have liked to have visited our members in the south but alas time was not on my side. Our daughter was graduating from the Southern Institute of Technology as an older student. It is so wonderful to see people re-training and moving in another direction.


Just a peek preview of what we have featured in this issue of ArtOnPorcelainNZ Newsletter.

● We have the results of the Unit Standard programme.
● Report from Emilia Hrstich on what's happening in Europe in the porcelain world.
● What gems will Painting with Monica have to help us with our painting?

---
❝Painting With Monica!❞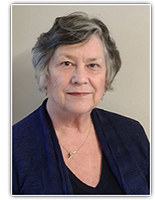 HELPFUL TIPS AND HINTS FROM OVER THE YEARS


FIRING


Firing your pieces is a very simple process when done correctly.


The first thing you should do if you are buying a second-hand Kiln or have not used yours for some time is to have an electrician check and calibrate the thermostat. This is important as your kiln may not be reading the correct temperature. It could be out by 50° and depending on what you are firing could cause heart ache for you.


Learn to stack your kiln so that your pieces to ensure the heat is dispersed evenly throughout the kiln allowing maturity.


Most kilns today are electronically controlled which means you only have to set the required temperature and turn them on and monitor the heat process by turning it up after each temperature has been reached. (I check mine at 300°C, 600°C and at the final temperature which if a normal firing is approximately. 780°C) then leave to soak for 15-20 minutes then turn the kiln off and leave to cool, preferably overnight.


Get to know your colours and how they react to the heat. Have a sample plate handy so that you can paint a swab of colour onto it and fire it to ensure the colour stays true.


Some hints for different colours:


● REDS — These are the bright reds used for Christmas decorations. These should be fired at approx. 740°C. If the kiln fires too hot these will turn brown on maturity.


● BLUES, GREENS, YELLOWS, BROWNS etc — These fire well between 780°C and 800°C.


● GOLD BASED COLOURS eg some Pinks, Ruby, Rose and Purples — These should fire well at 800°C but could go higher if necessary.


Other things to consider is the type of porcelain you are using and where it is positioned in the kiln.


I could go on forever but read as much as you can. Most books have a chapter on firing.


Keep a note book and take notes on your results.


Happy painting and successful firing!

Monica Martin

President Hutt Valley Porcelain Art Association

---
❝Report from Emilia Hrstich on European Style❞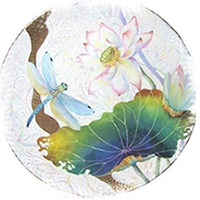 For years we have seen European style of painting by using fat oil or similar mediums to apply colour with one stroke and only few firings. It was ideal for Dresden and such but great experience is needed to master this kind of painting.


Europe has gone so far from tradition by using different techniques and experimenting with mediums, using many different textures, lustres and other available products available at suppliers around the continent. Many tutors have large studios and supplies there, numerous seminars are run often and Europe is easy to get from one place or one country to another. At some seminar you can work towards your internship like painting animal of your choice in open medium, what a good idea.


Another popular subject was "Lotus and Dragonfly" with wet grounding and many other techniques included to finish the project.


The look of watercolour on porcelain has been very popular too and when finished does look vibrant and minimal, very stylish and modern. Portrait on porcelain painting last month with portrait of your choice for internship was done in Italy, wonderful subject.


I have included some photos so you can see the work. Wouldn't it be nice to have some of them coming to New Zealand and teaching us some of their techniques.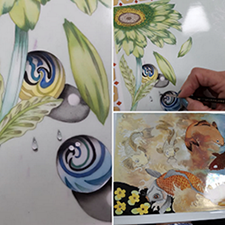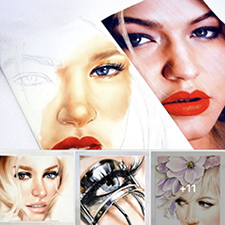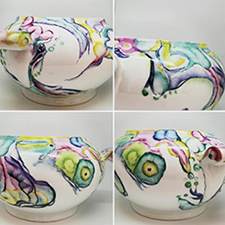 Art Credits:
Photo 1 (Left) - ©Artist Peter Faust
Photo 2 (Centre) - ©Artist Mariela Villasmil
Photo 3 (Right) - ©Artist Corinne JeanJacques Bodaine
---
❝Unit Standards Report❞


On the September 29, 2018 PATNZ held our annual Unit Standard exams for Porcelain Painters around New Zealand to submit pieces for assessment. We had three categories this year: Unit 13L Lustres, Unit 15 Monochromatic, and Unit 16 Bone.


As with every year it's a bit like having lots of parcels to open and the excitement of what is there makes the whole experience wonderful. I am always amazed at the efforts and ideas that come from everyone.


My Husband Jeff does the unpacking and labelling so I do not get to see any pieces until the day of judging. I feel that this is important for me as when the judges arrive we are all on the same footing. All the judges are given information as to what unit's pieces are being submitted so they can review the Unit Guidelines and be informed of what is required to pass the exam.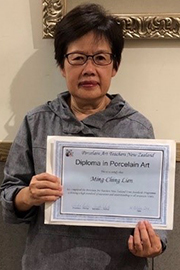 We are very happy to congratulate Ming Ching Lien for not only passing her final Unit 16 "Bone" this time but also that she has completed all 17 Units and has achieved her Diploma In Porcelain Art. Well done Ming Ching. I know the challenge and the work involved to get there and you now have a very good and knowledgeable understanding of the lovely art of painting porcelain.


Also Christine Handley passed Unit 7 "Landscape/Scene" and Unit 17 "Porcelain Canvas".

Maria King and Hui-Ling Chiu (Shirley) passed both Unit 1 "Flower Painting" and Unit 2 "Traditional European".

Certificates have been printed and posted to all the recipients.


---
❝AGM❞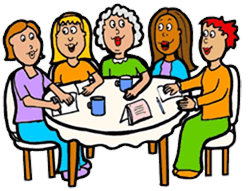 Our AGM was held after the Unit Standard assessments and a light lunch of cheese crackers and cold meats and refreshments.


This year we had a full complement of members and we were able to hold a full AGM. Thank you to Monica Martin, Leonie Dobbs, Lynette Smith, Amelia Hrstich and of course myself. The meeting was very positive and many items on the agenda were passed.


There was a very resounding positive support from all with regards to holding a Seminar with Melanie Foster next year in early September 2019.

---
❝Seminar Booking - Melanie Foster❞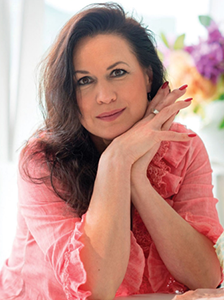 We have been offered the chance for Melanie Foster — a teacher from Germany — to come to NZ following the APAT 2019 Exhibition in Queensland. The APAT Exhibition will be from the 26th to 30th August 2019 following which Melanie will have some time free to visit New Zealand before she holds seminars in Victoria.


This is a great opportunity to have an overseas Artist whose work is inspirational and also beautiful with an extremely high skill content.


Melanie has smaller classes with only eight pupils in a class so we are prepared to hold 2 classes if necessary to prevent disappointment. The smaller sized classes also encourage more hands-on instruction from the tutor.


The seminars will be held in Lower Hutt due to the time restrictions set by Melanie's own timetable. These will be from 3rd - 5th September and 7th - 9th September 2019.


Due to the constraints and urgency we are asking for a note of intent to attend with a deposit of $100.00 to secure your place and preferential date for the seminar.


Approximate costs for the seminar, flights for Melanie, room hire and lunches at the date of writing this letter are $450.00 per person.


Accommodation costs and travel costs will be at participants own expense as will be breakfasts and dinners.


Once we have confirmed the number of people wishing to attend we will be able to finalise costs and let you all know what they are.


Below is a biographical excerpt about Melanie. I'm sure you will agree with me, her seminar will be a huge asset and well worth participating in!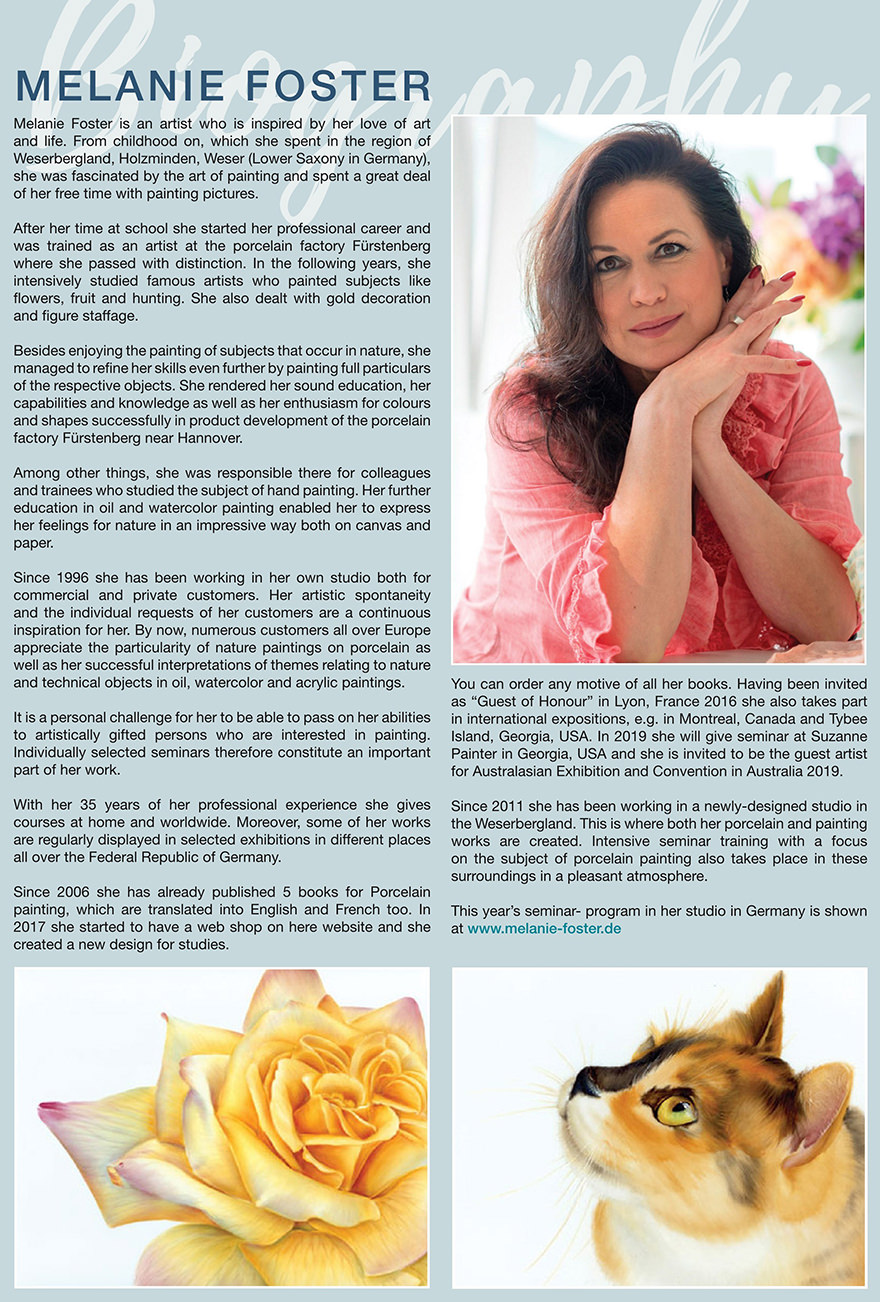 ---
The magical heart of ArtOnPorcelainNZ beats with Encouragement, Love of our Art, Respect, and Kindness to All! Please keep that in the forefront of your thinking.


Embrace it! Enjoy it!


Your Partner in Success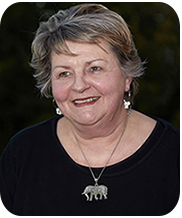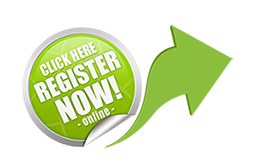 Sandra Austin
(President PATNZ)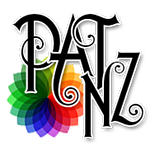 Copyright ©2017 ArtOnPorcelainNZ, All rights reserved.

Click here to download a copy of
Unit Standards Judging Rules


---